Motorcycle Safety: How To Safely Share The Road This Summer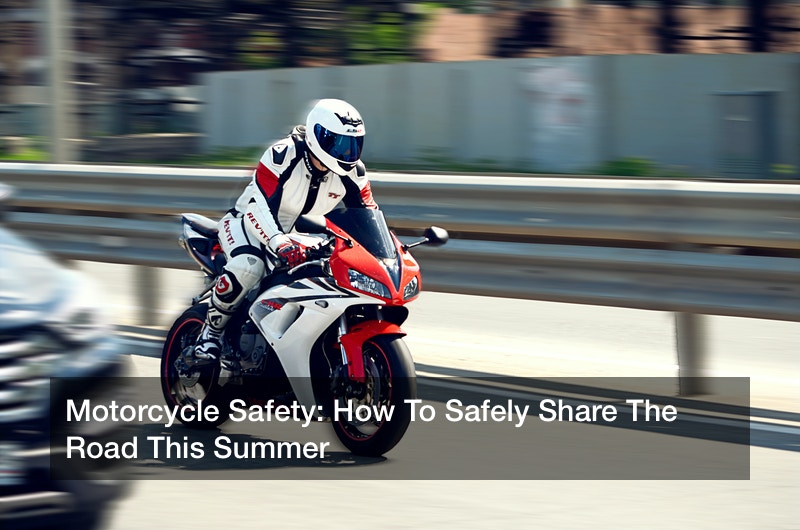 Summer is just around the corner, and motorcyclists are taking to the road now that the weather is heating up. Motorcycling is a popular summer activity with 472,000 motorcycles sold in just 2017.
But sharing the road with a motorcycle isn't like sharing the road with other cars, which is why motorcyclists and motorists alike need to be especially careful this summer.
Why are motorcyclists at greater risk when they're on the road?
Overal, just under 4,800 people were killed in motorcycle accidents in 2017. And although that's an 8.6% drop from the year before, thousands of motorcyclists are still at risk when they're on the road.
Motorcycles are smaller than your average vehicle, which can make them difficult to see. And motorcyclists don't have the safeguards that vehicles have such as airbags, seatbelts, and metal framing to protect them during a collision.
Already, different Departments of Motor Vehicles across the states are warning drivers and motorcyclists to be wary. In 2017, up to 142 motorcyclists were in fatal car accidents in just the state of Michigan.
How can I observe motorcycle safety as a motorist?
It's important to drive extra carefully during the summer months whether you're driving alone or with the kids onboard. The summer months have been called the 100 Deadliest Days by the American Automobile Association because of the increased risk of motor vehicle accidents at this time of year.
That said, here are a few ways you can observe motorcycle safety and be a safer driver on the roads this summer.
Always signal and check blind spots. When you're sharing the road with motorcyclists, it's even more important that you double check your blind spots and mirrors and that you always signal. Motorcycles are compact, which makes them more difficult to see compared to cars.
Give motorcycles the entire lane. Some drivers will assume they can pass a motorcyclist in the same lane because they're smaller and don't take up much space. But this can be dangerous, especially for the motorcyclist. Give the motorcyclist the entire lane just like you would any other driver.
Give motorcycles more distance. Motorcyclists slow down their bikes by downshifting or rolling off the throttle. This means you might not always see their brake lights when the motorcycle slows down or stops. Give motorcyclists about four seconds of following time. Expect a motorcycle to brake when approaching a stop or intersection.
How can I observe motorcycle safety as a motorcyclist?
Motorists aren't the only drivers who need to be especially careful on the roads this summer. Here are a few ways you can observe motorcycle safety as a motorcyclist too.
Make sure your motorcycle is in good condition. It's never a good idea to drive a car in bad condition, and it's an even worse idea to drive a damaged motorcycle. During the spring when the weather is warming up, be sure to conduct motorcycle maintenance. Up to 13% of the world's steel us used in the automotive industry, which means you need to keep rust at bay just like any other driver. Remember to change your oil, too, to give your motorcycle lubrication, corrosion control, chip removal, and cooling. It's recommended to change your final drive oil at least once a year.
Wear the appropriate safety gear. It's important to wear boots with nonskid soles, gloves to protect your hands, and leather clothing to prevent severe injuries. It's also considered a good idea to attach reflective tape to your clothing to make it easier for motorists to see you when you're on the road. And don't forget your helmet.
Be ready to ride defensively. When you're on the road, never assume that a motorist can see you. Many motorcycle accidents are caused a motorist violating a motorcyclist's right of way because they can't see them. Stay out of motorists' blind spots, signal well in advance, watch for turning vehicles, and always ride with your lights on.
Whether you're driving a vehicle or a motorcycle, it's crucial to be cautious when you're on the road during the summer months. Look twice, give other drivers space, and pay close attention to the road.