Multiple Bostian Elementary Teachers Arrested as Part of Rowan County Drug Ring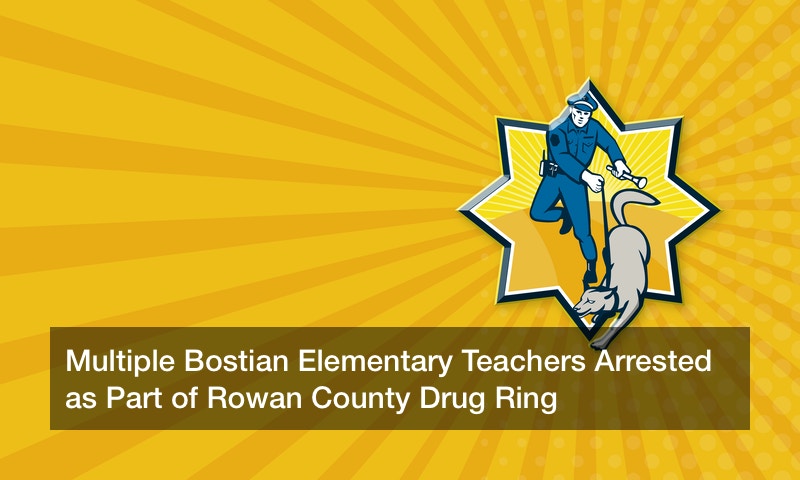 UPDATED 9/15/20
It's not a secret that Rowan County has a drug history — state records confirm this. But this week, many were shocked to realize that the problem is more far-reaching than initially realized when it became known that the drug problem extended to one of the area's best schools. This Tuesday, four faculty members employed at Bostian Elementary, and eight people overall, were arrested in charges of illegally obtaining thousands of doses of hydrocodone, a powerful painkiller that many people become addicted to. Investigators allege that the four are members of a hydrocodone drug ring, and have been trafficking opiates. Over a period spanning from October 2012 up until March, authorities say that 200 fraudulent prescriptions were written, and as many as 25,000 pills were distributed.


Where was the hydrocodone coming from? Police and investigators say that Orrin Walker, 48, was writing hundreds of unlawful prescriptions out of his store, the Main Street Family Practice. The prescriptions were filed by his wife, Abby, who is a second-grade teacher at Bostian, along with several of her friends and co-workers.

The investigation into the drug ring has been ongoing for the past four months. Meredith Raynes — a third-grade teacher, and teacher assistants Alisha Christian and Tammy Eudy face charges of conspiracy to commit prescription fraud by forgery, as well as obtaining controlled substances by fraud. Three other women who were not employed at Bostian were charged on Tuesday with similar offenses.


Many parents of elementary school children enrolled at Bostian were shocked by the allegations. "We have been reassured by law enforcement that at no time was the safety of any child at Bostian Elementary impacted by these activities," said Lynne Moody, the Rowan-Salisbury Schools Superintendent.

Many in the community have, in fact, been supportive of the teachers. "This is what often happens to good people underpaid in desperate times — the doctor is just greedy," said Robert Tompkins, an associate professor at nearby Belmont Abbey College, in a Facebook post.

Despite the drug issue, Bostian, with around 300 students enrolled and small class sizes, has some of the top testing scores of any school in the state. Perhaps not surprisingly given the charges, overall Rowan county ranks top in the state for death by unintentional poisoning, or drug overdose. In last year alone, the Charlotte Mecklenburg school system noted 500 incidents of drug possession — up 15% from the year previous.
With all of these recent arrests, there is an uptick in the need for bail and bail bondsmen. Since these are very serious charges with the defendants facing real jail time, being involved in the bailing process is critical to mounting a case. But securing the appropriate jail bail money, these accused teachers are able to go home and prepare for their defense.
Of course, since they work with children the bailing process may look different. Depending on who sets bail conditions they will probably not be able to return to work. Since being gainfully employed is a great opportunity for a judge to show leniency, losing their livelihoods can eventually jeopardize their freedom. Not to mention it could be difficult to make ends meet once they put up their jail bail money if they have no income coming in. 
Most importantly, the bailing process gives the accused an opportunity to get clean and start to make amends for the personal and professional damage they have caused.
The first step of the bailing process is a court hearing in order to determine if bail is appropriate. Several considerations must be weighed during this hearing, including the finances of the defendant and likelihood of being a flight risk. If the judge feels the defendant can be responsible for returning to court after posting bail, a bail amount will be set.  This bail amount is based more on crime that on the personal financial situation the defendant is in. Meaning, the bail and bond amount for a millionaire and the bail and bond amount for a minimum wage worker could be the same if the crime is the same. 
The next step in the bailing process is finding a bail bondsman to handle the payment. The bail bondsman secures the freedom of the prisoner. A bail bondsman will cover the bail amount for a fee. They also are responsible for bringing in the defendant if they do not appear at their scheduled court date.